Nana, 2010-2015
60x46 inches, oil on canvas (N/A)
I have been painting portraits for more than 15 years. "Nana" was in the BP Portrait Award 2015 Exhibition which showed summer 2015 in London at the National Portrait Gallery, and then toured through June 2016 to the National Portrait Gallerys in Edinburgh, Scotland and Belfast, Northern Ireland.
Bartley and "Nana", 2015
My husband Bartley looking at my portrait "Nana" of his mother, Natalie Bryt, hanging in the 2015 BP Portrait Award exhibit (first thing you saw at the entrance) at the National Portrait Gallery in London, a couple months after she died in 2015. She would have loved being in London, Belfast and Edinburgh portrait galleries, was a total anglophile. But she would have been horrified to be in her house dress. Sorry, Bunny.
Mom Swimming (from Dad's film)
30x36 inches, oil on canvas (sold) This painting is from a series based on old family photos and films and were shown over the course of 3 years at Hoorn-Ashby Gallery on Nantucket Island. My mom was a champion swimmer as an adolescent after having TB during the war in Holland where she grew up and trained and worked as a registered nurse. My dad made this 8mm film by being out in the bay water beyond Mom taking one of her signature swims. This film from which I pulled stills was made in August 1965, when I was 2 months old and likely napping in a stroller under the watchful eye of a nanny on the beach.
The Olsons
20x24 inches, oil on canvas. This is my sister and her family. She and I are less than two years apart in age. She lives in Santa Fe and has two sons. I live in NYC and have two daughters.
commission
Maine
16x20 inches, oil on canvas. commission
3 Sisters, Katonah
20x16 inches, oil on canvas
commission
Bunny in Her New York Kitchen
16x20 inches, oil on canvas (N/A)
Minna
14x11 inches, oil on canvas (sold)
John, Bartley and Tom (Andrew's funeral)
16x20, oil on canvas (sold)
John, Listening to Music, Sag Harbor.
60x48 inches, oil on canvas. NFS
Natalie at 13
36x30 inches, oil on canvas (N/A)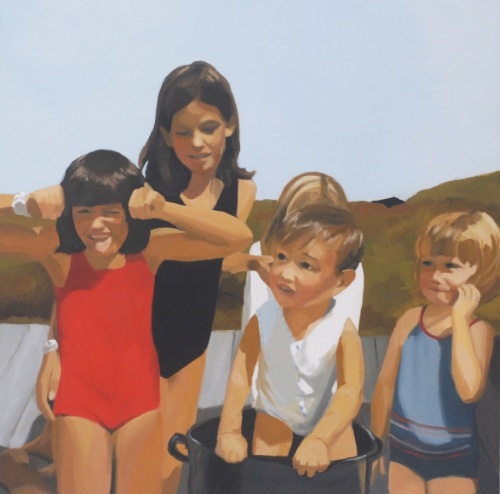 The 5 of us
30x30 inches, oil on canvas (sold)
(I'm the middle one in red suit)
Louise, Bartley and Tierney
30x36 inches, oil on canvas (sold)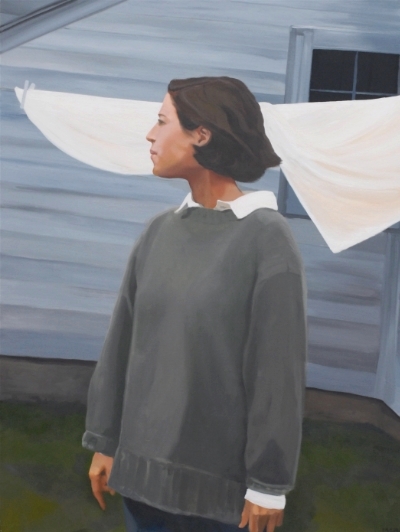 Marguerite
48x36 inches, oil on canvas (N/A)
Catherine and me (from Bartley's video)
36x48 inches, oil on canvas (N/A)
Bartley, Natalie, Catherine at the Rio Grande
20x16 inches, oil on canvas (sold)
Abigail, Per, Oli and Natalie at Lake Tahoe
20x16 inches, oil on canvas (sold)