To see other groups of my work, click on "Portfolios" above or HERE.
These bronzes were on view at John Davis Gallery summer of 2014.
NEWS: Great review by Karen Wilkin of these two sculptures in her Autumn 2014 "At the Galleries" article in The Hudson Review, p.467. Click HERE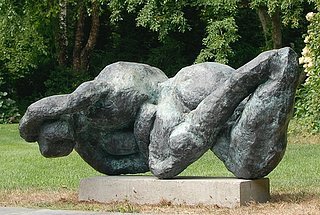 Inspired by my reading of Ovid's Metamorphoses and looking at natural rock formations, these figures are about coming into being, including an unwieldiness that seems central to the human condition.  My figures end up being larger than life size, I think because that feels intimate to me, the way a body close at hand looks and feels– very present and touchable, but unknowable.
To read the Deucalion and Pyrrha story click HERE.